After much debate, I finally decided to bite the bullet and upgrade my bike this year to a full carbon frame and I'm happy to debut it here in my first blog post in 14 months. I've been thinking off and on about getting a new bike for the last year or so, but I've always been caught up in the need vs. want debate. With a solid bike, my 2005 Trek 1000 that has served me well for the last 6 years, it always seemed as if need, or the lack there of, always won out over want. Nevermind the cost and at my age, the consideration that I might not get my money's worth out of a new bike.
I first ran across this bike at the Toronto Bike Show back in February, and was torn at the time between this one and a very nice Specialized S-Works. In the end, I didn't buy either at the show, but a few weeks back, after my first ride of the season, my want for the first time started to outweigh my need. After a little research, I found my new bike on sale at a great price at
Racer Sportif on Queen West
and couldn't resist. So without further ado, here it is. My brand new..
2010 Scott CR-1 Comp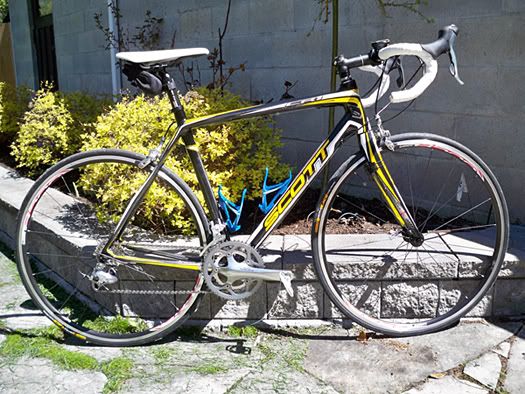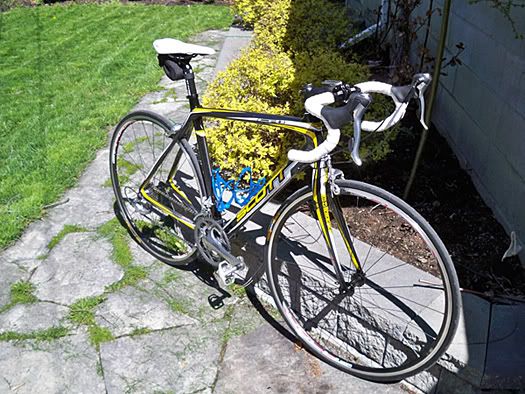 For a look at the full details of this bike,
click here
.
Having passed on a new bike at the show, what I did buy were a couple of new bottle cages. Unfortunately, I bought them at the time to match the colour scheme of my Trek which is Blue/Black/Silver. The cages don't go so well with the Scott colour scheme but they'll do for now. Maybe a couple of black or yellow cages will be my first purchase next spring.
Now, if it would only stop raining.